Interactive Game Guide
Whether you're a new or experienced player, Whammy Interactive is a great way to have fun and meet new people while you watch the show in real time. In this game guide, you'll find tips and tricks for both new players and experienced players.
Guide for New Players
* Go to the GSN website before Whammy starts (give yourself about 5-10 minutes before the show). You need to be registered with the site to play, if not, you can register for a free account
* Once you login, look for the link to the game. Click on it and follow the instructions. The GoldPocket interactive software and Macromedia Shockwave player are required for playing the game, it will be automatically downloaded and installed if you don't have them
* Enter the game lobby, which will display your personal game screen. All players start with 6 spins and a Big Bank of 3000 points (for season 1 shows, you do not have the big bank). At the bottom of your screen is a chat bar, listing the current dialogue and the other players in the chatroom with their scores. You are free to chat while you play
Your score bar will look something like this (this is from when I played on May 6, 2003-a second season show, and my all-time best effort):

Playing the Game
* Each spin the contestants take in rounds 1 and 3, you will be given 3 choices of what to do. You can either ride with the contestant to see what they get (Contestant), take a chance by taking one of your spins on the in-game board (Spin), or sit the turn out if you think the contestant will hit a Whammy (Sit Out). You will only have 5-10 seconds to make your decision, or it will count as sitting out the turn
* Keep an eye on your score (top oval in blue). If you hit a Whammy at any time, your points will go into your personal Big Bank (bottom oval in light blue) along with the 3000 points you started out with. Ride with a contestant who hits the Big Bank square during the game or land on it with one of your spins, you will have a chance to get your points back if you answer the question correctly
* Before the show starts, you will be asked to predict which of the three players will win the game. If you're right at the end of the show, 50 points will be added to your score. During commercial breaks, you will also have opportunities to answer survey and trivia questions to add more points, such as guessing which contestant gets the most Whammies after round 3
* In round 2, listen carefully to the question that Todd asks the players. When a contestant buzzes in with the answer, your three choices will appear. Click on the one you think is correct, and you'll receive extra spins for the next round. The more time you take to choose the right answer, the fewer spins you will get if it's correct. Spins start at 3 and decrease every few seconds, so be as fast as you can
Helpful Hints
* If you're an experienced player or a new player and you know the episode well, use your best judgment. Remember to sit out or use your spins at points when contestants hit a Whammy, and you'll do fine
* If you decide to ride with a player in round 1 and they get one half of the car key, you will receive 2500 points. In round 3 if the same thing happens, 7500 points will be added to your score. The points will really add up if more than one contestant gets key halves, it is possible (season 2 episodes only)!
* If you get a high-enough score at certain points in the game, you might find your name on the leaderboard that features the 10 highest totals, both on your game screen and on TV. An example is below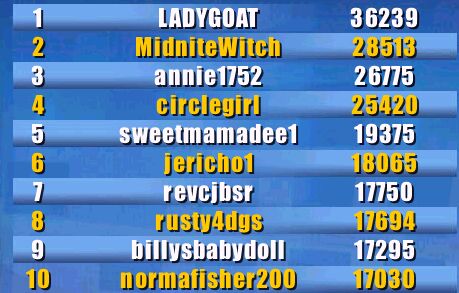 (The final leaderboard from November 23, 2004--a first season show. I finished 4th!)
If you have any questions or comments about the game guide, please let me know. For now, have fun and good luck!
Back