Q & A With Todd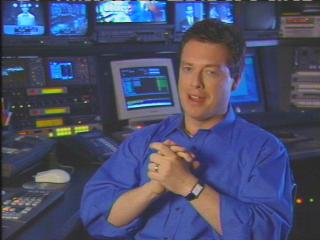 I asked Todd a few questions about the Whammy experience. Check out some of the answers he gave me!
Q: How are you enjoying the Whammy experience so far? And how exciting is it for you to know that the show is on in Canada?
A: Whammy! is a blast and I'm very excited about folks in Canada being able to check us out.
Q: I loved watching the promos for season 1 of Whammy. Do you have a particular favorite out of all of them?
A: My favorite Whammy! promo was the one where we were running down the busy street being chased by the police. It was funny to watch the looks on people's faces as we were filming it.
Q: When you're not busy taming Whammies or working at E!, what do you like to do in your spare time?
A: In my spare time my family and I love to travel and just hang out together
Q: Is the Whammy REALLY as bad as he seems?
A: Is the Whammy bad? Well, he takes your money and dumps snow on your head--you tell me!
Q: I saw you on Hollywood Squares. How was that experience?
A: Hollywood Squares was a great time because I got to be on the other side and experience all the excitement of being a contestant. It was also a chance to earn some money for charity which is the most important thing.
Q: Finally, would you like to say something to all the Whammy fans out there?
A: I'd just like to thank all the Whammy! watchers for watching us and welcoming us into your homes the way you have. We're having a blast and the fact that you're enjoying the show makes it all the better. To the Whammy! Army--SALUTE!!!
Thanks, Todd...you rock!
Back